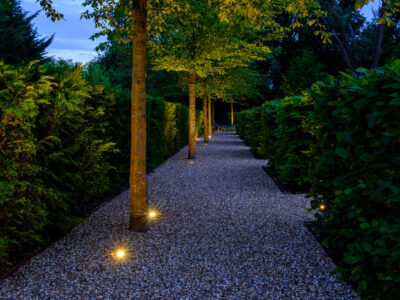 About Landscape Associates
Landscape Associates was formed in 2001, by its Managing Director Richard Curle. Richard created Landscape Associates after completing his Higher National Diploma in Horticulture and Landscape Construction. This work placement and his studies gave him the motivation to create Landscape Associates.
It was in 2005 that Landscape Associates became a Limited Company based in Teddington, London. Due to substantial growth, the business required further office space and storage and in 2016 Landscape Associates re-located to their current head office in Chertsey, Surrey.
Today the business consists of 24 members of staff, covering all aspects of Landscape Construction and Garden Aftercare. Their quality of work is highlighted by the industry acclaim, receiving numerous awards, including British Association of Landscape Industries (BALI) awards, The Association of Professional Landscapers (APL) awards and Royal Horticultural Society (RHS) Gold Medals at both the Chelsea and Hampton Court Flower Shows.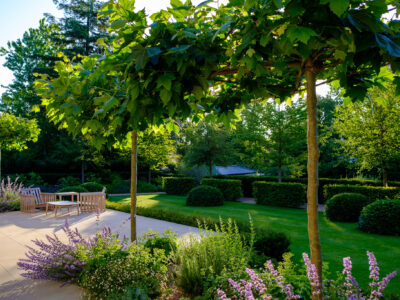 Construction
Building gardens really excites Landscape Associates, this was how the company was initially founded and since then they have gained a wealth of knowledge and experience. Their portfolio of projects includes small intricate roof terraces in London to large country estates in the home counties and everything in between.
Landscape Associates' experience of building gardens allows them to offer complete management on large and technically challenging bespoke schemes where multiple specialist sub-contractors are required. Liaising closely with others (artisans/contractors), they have a proven track record of successfully delivering schemes with pools, tennis courts, glass, steel and timber structures, as well as bespoke water features, fire pits, lighting and irrigation systems.
Their level of expertise allows them to bring together these items seamlessly providing their clients and designers with a hassle-free single point responsibility and above all, a high-end delivery with outstanding attention to detail.

Garden Care
Caring for a garden is about the long-term vision, Landscape Associates believe it is vital in upholding the design integrity and character of a garden while devloping and improving as the gardens establish. Their industry experience can provide this vision, offering a carefully planned Garden Care service throughout the year.
Each individual garden that they care for has its distinct features and style. Landscape Associates are aware that their clients have their own vision and it is their aim to provide the greatest level of care and work with them to achieve this for their clients.
Whether it is a garden they have recently built or an existing garden that they have been fortunate to become involved in at a later stage, Landscape Associates aim to ensure that the level of care they provide, is to the highest standards.

Team